News:
---
In the media:
---
Search Music Matters
---
Issue Info:
Complete listings of the reviews interviews and features in our print publication. Click on the issue numbers below for details!

Issue 14 Our final print issue!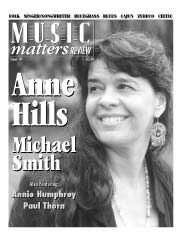 Reviews:
Reviews of the latest releases from your favorite and many "underdiscovered" artists!
Interviews:
Anne Hills
Michael Smith
Annie Humphrey
Paul Thorn

On sale now!