Concert Reviews:



---


Rani Arbo and Daisy Mayhem—Chapin Rainbow Stage—Heckscher Park, Huntington, New York 8/11/05
Rani Arbo and Daisy Mayhem—Folk Music Society of Huntington, NY
Mary Black—Cerritos Center for the Performing Arts, Cerritos, CA March 21, 2003
Slaid Cleaves—The Acoustic Café, Bridgeport, CT
Slaid Cleaves Band—House Concert, Trinidad, California 9/8/01
Slaid Cleaves with Rod Picott—The Brokerage, Bellmore, New York 9/19/01
Bruce Cockburn—The Coach House, San Juan Capistrano, CA
Crosby, Stills, Nash & Young—Arrowhead Pond, Anaheim, CA 3/30/02
Cliff Eberhardt—The Brokerage Pub, Bellmore, NY
John Gorka—Turning Point, Piermont, NY
Tracy Grammer and Jim Henry— Finch Mountain House Concert 4/4/06
John Wesley Harding—The Knitting Factory, Hollywood, CA
Lucy Kaplansky and Richard Shindell—Inter Media Art Center, Huntington, NY April, 2003
Gordon Lightfoot—The Sun Theatre, Anaheim, California 10/13/01
Maura O'Connell—McCabes, Santa Monica, CA 10/4/02
Randy Newman—Palace Theater, Stamford, CT 10/00
Ellis Paul with Darryl Purpose—The Brokerage Pub, Bellmore, NY
Ellis Paul and Susan Werner at the Rogers Center for the Performing Arts, North Andover, MA
Darryl Purpose—Red Cedar Stage 5/26/02
Chuck Pyle—Folk Music Society of Huntington
Richard Shindell—The Bottom Line, NY
Louise Taylor—Guitar & Pen, Bronx, NY
Chris Smither—The Brokerage Pub, Bellmore, NY
Michael Smith—Folk Music Society of Huntington 4/4/06
Jack Williams—Cedar Stage Productions, Mt. Sinai, NY




Various—Down From The Mountain Concert—Universal City, California


---
Search Music Matters
---
Issue Info:
Complete listings of the reviews interviews and features in our print publication. Click on the issue numbers below for details!

Issue 14 Our final print issue!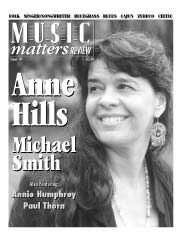 Reviews:
Reviews of the latest releases from your favorite and many "underdiscovered" artists!
Interviews:
Anne Hills
Michael Smith
Annie Humphrey
Paul Thorn

On sale now!