Music Matters Albums
Listen to samples of
music that matters.

Through iTunes
Through Amazon


Issue 15
Issue 16
Issue 17
Issue 18
Issue 19
Issue 20
Issue 21
Issue 22
Issue 23
Issue 24
Issue 25
Issue 26
Issue 27
Issue 28
Issue 29
Issue 30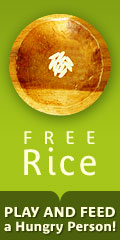 MMReview 30!

Welcome to Issue 30 of MMReview!

We are happy to feature Blue Rock Artist Ranch and Studio in this issue of Music Matters Review.Not only are they changing the way fans access quality music by offering virtual front row seats at great concerts online, but they are also a spirited center of creative activity.

If these reviews pique your interest in these albums, please click on the artists' names to visit their web sites. You can find out more about the artists, listen to samples of their music and check their schedules. Some of the reviews have links to Amazon and iTunes so that you can conveniently purchase the music. A small percentage of the purchases made from these links will go to Music Matters to help us defray the cost of this website. I hope you will find this to be a valuable way to discover music that will matter to you.

---
Feature:
Blue Rock Aritst Ranch and Studio
---
Reviews: (Click titles to jump to reviews)

Rani Arbo & Daisy Mayhem—Some Bright Morning
Dave Carter & Tracy Grammer—Joy My Love
Dave Carter & Tracy Grammer—Little Blue Egg
Steve Forbert—Over With You
Annie Gallup—Little Five Points
Hat Check Girl—Road To Red Point
Lucy Kaplansky—Reunion
Patty Larkin—Still Green
Claire Lynch—Dear Sister
Heather Masse and Dick Hyman—Lock My Heart
Gurf Morlix—Finds the Present Tense
Darryl Purpose—Next Time Around
Jenn Rawling & Basho Parks—Take The Air
Pete Seeger & Lorre Wyatt—A More Perfect Union
Claudia Schmidt—Bend In the River
Sons of the Never Wrong—Church of the Never Wrong
Louise Taylor—Tangerine
---
Concert Reviews:
Aengus Finnan—Finch Mountain House Concerts 3/16/13
Mindy Smith—Blue Rock Artist Ranch and Studio
4/11/13


---
Feature:

Blue Rock Aritst Ranch and Studio
Blue Rock Studios came to my attention as the place Darryl Purpose recorded his new album and staged his CD release show. As I visited the website I noticed that they would soon be webcasting a show by Mindy Smith (read the review here). I "attended" the webcast and soon was filled with a sense of how lucky I was to be in the presence of such a true artist. My "luck" was made possible by the extraordinary vision and dedicated effort of Billy and Dodee Crockett. Together they moved and shook what was necessary to design, fund and build a perfect music space, develop a concert series, provide hospitality for the musicians and sweat the details of flawless sound and video production.
A quick visit to the website reveals that Mindy Smith and Darryl Purpose are but the latest musicians to perform at Blue Rock since the Fall of 2006. Many of the featured artists are well know by anyone who loves the music of the modern troubadour. Eliza Gilkyson, Jesse Winchester, Mary Gauthier, Iris Dement and Chris Smither are among the stars of the singer-songwriter circuit. But be prepared to be wowed by others you will discover here—Amy Speace, Danny Schmidt, Darrell Scott, Darryl Purpose and many others. The common thread linking those who perform at Blue Rock is consummate musicianship and what Darrell Scott referred to in an interview as "telling some kind of truth." If you visit http://bluerocktexas.com/videos/ you will find a collection of three minute videos with clips from the shows and interviews with the guests. One could spend an evening going from one clip to the next, enjoying your favorites and taking note of new artists. The performances are all pristinely recorded and professionally filmed and in the interviews, Billy always seems to be riding the same wavelengths as his guests. The fact that each video clip ends with a link to the artists' websites (as opposed to, say, the Studio) says a lot about the priorities of Blue Rock. It's about the artists, in much the same way as it is about "some kind of truth" for the musicians.
Watching these videos, one cannot help but notice the beauty of the facilities and appreciate what it means for Blue Rock to call itself an "artist ranch." Blue Rock itself is a work of art. Billy explains, "We have an abiding myth that Blue Rock was once a soldiers' garrison during the Texas Republic - rediscovered, restored and appended by hand." The Crockets enlisted architects, local stone masons and craftsmen and an acoustic designer to turn the buildings and grounds into a haven for the arts and heaven for the artists. Works of art abound and there is a spacious retreat cabin to accommodate studio guests and beautiful terraces from which to savor the hill country views. "Dodee and I wanted to create something together that reflects us—our values and passions. We put heart and tenacity and savings into this because we want to be inspired—and for artists and community to be enabled to find and deliver their best gifts." The seriousness and respect given to the creative spirit is further expressed by the Blue Rock Foundation, whose mission statement indicates that it, "...exists to facilitate individual and collective discovery. Through our publications, performances, and workshops, we affirm that the creative impulse is universal and essential to human fulfillment." In addition to recordings, performances and workshops, Blue Rock's fertile environment has brought forth The Blue Rock Review, a series of journals featuring work and essays from renowned visual artists, filmmakers and musicians.
Blue Rock's rare combination of muse driven programming, technical excellence and organizational savvy uniquely serves dedicated but far-flung audiences. Blue Rock's live streaming of concerts may serve as a model for other quality venues. Across the country, the best and brightest touring musicians routinely play for audiences of less than one hundred. Those who seek out and attend the shows are frequently people who place a high value on the experience. On any given night there are surely thousands of fans who would treasure the chance to see a favorite artist or trust the taste of their local venue to introduce them to a new artist. Blue Rock charges ten dollars to stream a live concert (seventy-five for a yearly subscription). In a world where we expect everything to be provided free on the internet, this may give some people pause, but considering the quality of every aspect of the experience, this is a very reasonable price. Widespread participation in streaming events may make it easier for musicians to survive financially and fill more seats in venues along the way. It would also make it easier for musicians to stay in touch with fans when circumstances force touring radiuses to shrink. One can only hope that Blue Rock's uncompromising presentation and enthusiastic nurturing of the arts will garner the attention that it deserves, and perhaps with a little luck (and more hard work) revolutionize the way musicians and audiences connect. —Michael Devlin
---
Reviews:
Rani Arbo & Daisy Mayhem—Some Bright Morning
2012, Signature Sounds
As I listen to this album for the first time, I'm reminded of the lovely summer night I saw Rani Arbo and Daisy Mayhem at a free concert in Huntington, New York. As is the case in concerts of this kind, most of the people in attendance had wandered by because it was there for free in the local park. After a few songs, people were nudging each other and nodding, by the end of the show the band had won a lawn-full of fans. Some Bright Morning has that same kind of instant accessibility and charm. One must suspend one's disbelief in the possibility of fresh and new music from traditional forms when Daisy Mayhem blends and plays it with musicianship, friendship and the "Drumship." Rani Arbo's voice is as pure as a tomboy's, yet as strong and sure as the mom and veteran musician she is. Her fiddling has the same straightforward charm as her vocals. Rani and Andrew Kinsey have been kindred spirits since their days with Salamander Crossing. If you have ever met Andrew, you will realize that his solid bass playing and baritone singing are somehow not contradicted by his forays with the ukulele. Anand Nayak is a talented singer and songwriter whose guitar work adds an eclectic and sometimes electric edge to the sound. Scott Kessel is the Picard of the Drumship Enterprise, the whimsical but finely timbred collection of objects (a suitcase, cookie tins, etc.) he percusses as persuasively as if he had a normal kit.
The more one listens to this album, the more deeply one appreciates the depth of the material and the talent and chemistry of Daisy Mayhem. Their harmony singing reveals a shared musical vision as the voices perfectly compliment one other. Similarly, their playing has a sparkling quality, arranged to bring out the best in the songs and each other.
Arbo's own songs highlight the transparent quality of her voice that connects you directly to the emotions of the songs. "Miami Moon," from the point of view of an old man reminiscing about how he would dance with his sweetheart, is hard to listen to without a tear in your eye. The same guilelessness makes "Build a Bridge" more than the sum of its gorgeous harmonies. "Crossing the Bar," the Tennyson poem with music by Arbo, originally done with Salamander Crossing, is beautifully phrased and arranged here.
Although Arbo is eponym of the band, everyone gets a chance to shine. Anand Nayak takes the lead on "Reason to Believe," (a Springsteen song that was begging for the Mayhem/gospel/string band treatment), and the traditional "East Virginia Blues." Andrew Kinsey takes the lead (and ukulele) on the traditional "I'll Fly Away." His "Fire in the Sky" gets a new interpretation, starting with high lonesome harmonies before roaring out in a fuzzy electric haze. Although Scott Kessel seems content to back the others with his tastefully textured percussion, he gets to show off his sticks on the funky blues of "Little Johnny Brown" and "Travelin' Shoes."
Some Bright Morning is a joyful and consummate achievement. —Michael Devlin

Dave Carter & Tracy Grammer—Joy My Love
2012, Red House Records

Joy My Love is a five-song EP of songs that were not used on Dave Carter and Tracy Grammer's recently released Little Blue Egg, a collection of songs recorded between 1997 and 2002. Although it seems that Tracy is down to the last scraps of unreleased recordings from the duo, these songs are worthy of their place in their catalogue. "Wild Gardenias" features intricate guitar work on a song rich in flowery metaphors, but also with the lyrical twists that mark it as a Dave Carter song. "Hey Diddle Diddle" starts out sounding a bit like "Texas Underground" but it is has the lighthearted mood of a children's song—post-modern mythic style that is! "You Must Slumber" previously released on the Signature Sounds 10th Anniversary Collection, is a tune written during the Vietnam War, an ominous lullaby sung to a child hearing the sounds of war approaching. "Celia Says" is a children's song with the tongue-twisting line "Celia says we all sail the sea together." The last song is a leisurely version of "Merlin's Lament" with just Dave playing banjo as sweetly as it can be played. Although it would be enough to have a collection of demos from this duo of talent and true genius, Joy My Love is a pleasing set of music by any standard. —Michael Devlin

Dave Carter & Tracy Grammer—Little Blue Egg
2012, Red House Records
Click cover for Amazon

I have eagerly awaited this album since Tracy Grammer spoke of it during a concert this fall. After describing "Better Way" as Nashville ready (until Dave had to "ruin" it by bringing Death into it as a character), Tracy went on to drop everyone's jaws, blessing us with its definitive version on our first listen. Hearing Dave sing it on the album, I felt the joy of knowing that yes, there was at least one more Dave Carter song in my life that would fill my lungs with the need to sing it. Fans of the duo will be anxious to know that in addition to "Better Way," there are six Dave Carter compositions making their first appearance on disc— "Hard Edge of Livin," "Cross of Jesus," "Amazon," "Three-fingered Jack," "Till We Have Faces" and "September Sea," all of which earn their place in Dave's legacy of "post-modern mythic American folk music." Of these, "Till We Have Faces" is the one I return to, swimming with the rich flow of images as meanings wash over me. Like many of the songs on the album, it is arranged with elegant simplicity. Unusually, it features Tracy singing with another woman providing harmony vocals (presumably Claire Bard). There are three songs with released versions featuring Tracy, presented here with Dave singing lead. "Hard to Make It" has an appropriately weary feel when Dave sings it. "Any Way I Do" is moving in a simple acoustic arrangement, featuring a lovely fiddle break by Tracy. Add another nice version of "Gypsy Rose" to your collection, gender-switched to suit Dave's lead. Their cover of the Woody Guthrie song (finished by Billy Bragg) "Way Over Yonder In a Minor Key" glows with the charm that made so many people fall in love with the sound of the duo. Dave plays banjo and Tracy her soulful "Wounded Healer" as the they trade verses and take turns singing goose-bump raising harmony. It is a mysterious song with a haunting refrain, perfectly suited to Dave and Tracy's writing and performing style. I wonder if the fact that you can clearly hear a baby squalling in the background at the beginning of the song, kept this particular track off prior albums (I actually think it adds something!). Little Blue Egg is an impressive record by any standard, but all the more dear for being just a little bit more from a beloved artist, and certainly a fitting tribute in this anniversary year of special attention to the work of Dave Carter. —Michael Devlin




Steve Forbert—Over With You
2012, Blue Corn Music
Click cover for Amazon

Produced by Chris Goldsmith, Over With You adds a new flavor to his sound, yet it is still quintessentially, a Steve Forbert album. Similar to the way he takes the stage in a live performance, he starts in fully nuanced emotional emersion from the very first note. It doesn't give neophyte listeners a chance to catch up and catch on, but those of us who have loved his raspy voice and idiosyncratic timing for more than three decades can hit the ground running. Forbert tight-ropes through the complexities of long-term and sometimes long-distance relationships. As one expects from Steve Forbert, the maturity of the themes is matched by his talent for a catchy melody and the sophistication of the lyrics. He has an uncanny knack for expressing specific emotions in the very sound of his voice and the phrasing of his lyrics, as is apparent in "That'd Be Alright," as he sings its hopeful lyrics with almost childlike glee. The way Forbert crafts his lyrics has long marked him as one of the premiere singer-songwriters of his generation, but it is his ability to meticulously render emotional truths great and small that sets him apart. The title track features the sad but beautiful lines, "You grew less impressed with all my cans that clatter, still on shore they shine,/ I guess that you just guess that all your plans that matter, won't much more with mine." The almost pop-rock sounding "All I Need To Do" sounds like an "I'm so glad you're gone" song until Forbert ambivalently adds "All I need to do is just to find someone who's just like you." "Baby I Know" with the lines "Baby I know you're only ninety percent happy with me,/ I can get back to a hundred girl/ I can again you'll see," is sung without a trace of irony, taking this song to level of genuine sweetness that would cloy in lesser hands. Forbert doesn't shy from his signature wry humor, In "Sugarcane Plum Fairy" he sings, "Your crazy grandpa spills the wine around the sycamore tree. I hear his bandsaw just inside where your nephews might be."
Responding to questions about themes in his music and playing older songs in concert (in an interview with the Music Matters Review when Rocking Horse Head was just released), Forbert said, "I'm just trying to write songs that I feel like I can sing, night after night. I have to feel strongly about them to say they are finished and then to sing them for people and certainly to record them." I have no doubt that Forbert will be proud to sing the songs from this album for many years to come. —Michael Devlin




Annie Gallup—Little Five Points
2012, Waterbug
Click cover to buy

The milieu of art, poetry, dance and music, its culture and givens inhabit every aspect of Annie Gallup's work. The people in her songs create, ponder and explore, exposing their foibles over drinks, or in heady but flawed relationships. The intensity of her interest in the subtle shades of truth informs her singularly refined lyrics. Combined with her exquisite musicianship and the sultry quality of her voice, she immerses you in a world that is both cerebral and sensual. So many things are striking about her music. The arrangements are sparse, usually sustained by quiet electric guitar with echoey slides of other instruments. Her vocals whisper, recite and soar to the clear urgings of her muse. Her sophisticated attention to language and imagery is accessible and frequently wryly humorous. The album begins with "Lester William Polsfuss," a narrative homage to Les Paul that coyly reveals his name in the last line of the song. "The Story of My Life" sheds light on her creative process in its first lines, "I wanted to tell the story of my life/ So I wrote a poem about a river/ How else could I say what I really mean,/ And hope to be forgiven?" "Adam's Ribs" tells the story of Adam and Eve and their children in a way that is both surreal and wistfully human. "Poets" plays like a film that focusses on each person in turn around a table in a Little Five Points bar as they are stripped bare by the narrator's lampooning description. Other songs detail moments and reminiscences of relationships in musing depth, using images and juxtapositions as an expressionist painter uses dabs of paint. There is a lot going on in this Little Five Points neighborhood, enough for many a return visit. —Michael Devlin




Hat Check Girl—Road To Red Point
2012, Waterbug/Gallway Bay Music

Annie Gallup and Peter Gallway have once again incited, inspired and nurtured each other's muses to craft their third CD in as many years. Gallway is the man with the tall-cool voice and elegantly understated touch on the electric guitar and keyboard, Gallup the siren poet with the breezy voice and sure touch on guitar, banjo and lap steel. They share a passion for their art and the details of sound, word and the spaces in-between. It is hard to overemphasize the cumulative effect of the care and attention they give to every aspect of their music. The arrangements are sparse enough to hear every note of every instrument and the hidden shade of meaning of each word and phrase. Even as they share a profoundly similar musical esthetic, they express their own distinct personalities. Gallway gravitates towards a retrospective voice, and many of his songs have a gently yearning quality. "Just Think Back" looks back to the dawn of his love for music with cinematic detail, "Just think back to that very first tune/ Lights up bright in the living room/ And the TV news got your mama in tears/ And the song that played haunts you all these years." The details illuminate the feelings that are too illusive to describe. "Up in the County" has an epic quality, celebrating the paradox of isolation and belonging under a big sky where "everyone's family." It is a place of extremes, where "It's colder than Satan" and the river rises, "But up in the county you're closer to heaven." Gallup is more likely to explore a single moment or a singular reflection, patiently painting the picture with sensual details pushed to their limits by metaphors and musings. "The way she steps from the shower makes you think/ Of Scarlett O'Hara descending the stair." Whether she is singing or dramatically reciting her lyrics, her voice draws you into her moment. Musically, Gallup and Gallway's collaboration is elemental and harmonious in mood and voice. Their feel for each other's rhythm and syncopation obviates the need for a backbeat. This abundantly talented duo seems to have a genuine and gentle regard for each other that makes this a sophisticated and warm listening experience. Once again, an extraordinarily fine and engaging album. —Michael Devlin




Lucy Kaplansky—Reunion
2012, Red House Records
Although Lucy Kaplansky has been touring with Red Horse, supporting her 2010 collaboration with John Gorka and Eliza Gilkyson, somehow, five years have gone by since she released her last solo album. Over the Hills and the album before that, The Red Thread are frequently informed by the significant events in Kaplansky's life, in particular the arrival of her daughter Molly and the aging and passing of her parents. Along with exquisite covers of the music of her contemporaries, this new album continues her narrative of change and emotion.
Reunion features a familiar cast of talented musicians, from long-time producer Ben Wittman, to guitarists Duke Levine and Kevin Barry, and Stephan Crump on bass. The guest musicians include Richard Shindell, John Gorka, Eliza Gilkyson, Buddy Miller and Jonatha Brooke. As expected, production is state-of-the-art and the vocals are every bit as excellent as one would expect from such stellar harmony singers.
Kaplansky, always a master at picking and interpreting the songs of others, makes some memorable choices here. She finds something a little different in her slightly mellower version of Eliza Gilkyson's "Beauty Way." "Life is Beautiful" sounds like a song New York resident Kaplansky would have written recently, but it was actually released by Amy Correia in 2000. Woody Guthrie's "This Morning I Was Born Again" (music by Slaid Cleaves) is a great singers song covered by a great singer's singer! Her own "Gone Gone Gone" pairs nicely (or should I say nastily) with the Lennon-McCartney "I'm Looking Through You."
The songs that explore Kaplansky's familial connections are the soul of this album. Her daughter, Molly is now a preteen, but Kaplansky is still acutely aware of the emotional gulf between her and the woman who gave her up, as expressed in "Mother's Day," "Later on I watch her sleep/ And that same picture returns to me/ Six years ago, December day/A mother wraps up her baby and walks away." The title track evokes Kaplansky's childhood view of a reunion trip, swimming in Motel 6 pools, eating cookies in her grandmother's bakery, and noticing the way her father shared his brothers' "grey green eyes/ And their handsome faces/ With dark shadows behind." "I'll See You Again" tells a her parents life story, tied to the Noel Coward song of the same name. Chronologically we follow her parents from their courtship to Lucy's father's death as her mother lived on with severe dementia. Emotionally, there are great truths are revealed in the slightest details.
The album closes with "Sleep Well," a lullaby for her mother. It is just Kaplansky with piano accompaniment by talented jazz singer Laila Biali. This song has one of those little moments that can only happen in a song. Before the last two words of the following lines, there is a little pause that speaks volumes. "You would sit beside our beds/ Watch our breathing as we slept/ Now photos of us next to you/ You can't see them but...we do."
It's that kind of an album, with joys and sorrows giving each other added resonance, with truth coaxed out of emotion-filled moments in a way that is sure to bring tears of recognition to your eyes. Reunion is a rare musical accomplishment and an incredible gift to those of us who now care for or mourn the passing of the "greatest generation." This is a mature, beautiful album that you will surely cherish and play for good friends. —Michael Devlin






Patty Larkin—Still Green
2013, Signature Sounds

A new album from Patty Larkin is like catching up with an old friend after a couple of years, noting the changes in perspective brought on by significant events. When one has enjoyed her music for more than twenty years, one relishes the time to sit down with the lyrics and do nothing else but listen. Patty Larkin has gone through a few difficult years, losing her mother and father and dealing with her sister's serious illness. The songs are not specifically about the events in her life, but follow the trajectory of her emotions. The fact that she selected from among forty songs has assured a variety of sounds and detailed spectrum of emotion. The album starts with "Best of Intentions," sung in her unique rhythmic style, but sounding very much like she's singing quietly to herself, searching late at night for meaning, "I wish there was something I could believe to belong." "Down Through the Wood" maintains a pensive mood, even with its processed guitar and multilayered production. "Soon as I'm Better" is easy to connect with for fans of Larkin's wry sense of humor, as it acknowledges our expectation that she will again jest at life, "Soon as I'm better/ I'll be funny/ Soon as I'm able to laugh alone." She surely seems able to laugh in "Mando Drum" as she sings the whimsically staccato Patty Larkin lyric, "Double Double Mocha Mocha Grande/ That's what I want." Her guitar, as always an exquisitely rhythmic force, is a bit back in the mix, but the arrangements keep our feet tapping as her groove chameleon vocals tell tales of increasing spiritual momentum. The last song "Because of This," leaves us quietly, yet hopeful with "I am tearful and grateful/ heart full and thankful and blessed." This is a beautiful album by immensely talented artist who after all of this time is still growing and expressing an ever deepening experience of life. —Michael Devlin






Claire Lynch—Dear Sister
2013, Compass Records

It's clear from the first couple of bars... this music is real and really good! Lynch's voice has the sweet high country twang of a teen singing on the porch, but also a deeper womanly tone to tell her stories and tug the heart. There are similarities to Dolly Parton, some in the timbre of her voice, a lot in the way she makes you believe as she sings the heck out of a song. Aside from Lynch's singing, one is struck by the almost symphonic quality to the down-home instrumentation of the arrangements. This band has a lot going on among the fiddles, mandolins, guitars, upright bass and banjos—not just brilliant picking, but sophisticated, seemingly spontaneous composition. Compass cofounder Garry West surely gets kudos for getting the most out of the Claire Lynch band and guests (Alison Brown, Rob Ickes, Tim O'Brien and others) and making sure they sound great on the album.
It is not always easy to express what it is that makes a particular artist special, but by reading her dedication to her father, one can glimpse the seeds of Lynch's passion for her craft. "This project is lovingly dedicated to my dad, Evan Lutke - who teared up at a beautiful song, was happy to sing at any given moment and who 'did his dangdest' to provide me with an understanding of Truth and Love, not to mention a grasp of the binary system. Two out of three ain't bad Dad! Thanks for the uke."
Song after song, one beautiful arrangement after another, you realize that Lynch and her crew are faithful to her father's inspiration, making true and lovingly crafted music. Some of the lyrics cover subjects you will hear in pop country songs. These songs are immediately likable, catchy and brilliantly played. There are also songs, that while easy on the ears, are deeper and more thoughtful than typical pop. At the heart of this album is one such song, "Dear Sister." It is a cowrite with Louisa Branscomb, whose great, great, great, civil war era aunt preserved letters home from her brothers. The lyrics are as wistfully plainspoken as those letters, simplicity being the best way to express profound feelings.
Lynch covers Al Anderson and Sarah Siskind's "Doin Time," a song that triggers its story with the memorable lines, "I was born with a fire in me, buried under coals/ I lit a match when I was seven, burned down our home." The next verse reveals a broken romance then the chorus repeats three times (in part) "All that I know how to do is run away/ When I forgive myself, that will be the day." She also covers Pierce Pettis's "That Kind of Love" an emotionally soaring song that can be taken with equal grace as an ode to love or a prayer. It will fill your eyes with tears.
Claire Lynch can be claimed by fans of many genres, especially bluegrass since she is a perennial nominee and winner of IBMA awards, but the sound she makes with her band truly belongs in the ears of all who love heartfelt music by accomplished artists. —Michael Devlin





Heather Masse and Dick Hyman—Lock My Heart
2013, Red House Records

Although this album is a bit of a departure from her work with the Wailin' Jennys, her syle has always been informed by her training at the New England Conservatory of Music as a jazz singer. Masse has admired Dick Hyman's work since she was a girl and enjoyed performing with him on A Prairie Home Companion, and was even more delighted to collaborate with him on this album. Hyman is a legendary pianist whose six decades of performing, composing and arranging have proved that he is a master of everything from ragtime to classical. His lucid left and right hand technique coaxes every nuance out of the hammered strings of his piano. Masse's voice is a beautiful instrument, soulful and earthy, yet effortlessly pure toned and rangy. Hyman and Masse anticipate each other mood for mood, and the way the dynamics of the singer match the touch of the piano is a source of constant delight. The recording captures the grand piano and equally grand Heather in a way that makes you feel like you are in the room with them. Classics like "Bewitched Bothered and Bewildered," Lullaby of Birdland" and "Love for Sale" sound fresh and new, and Masse's own compositions are at home in their company. The album ends with a playful rendition of "I'm Gonna Lock My Heart (and Throw Away the Key)," playfully channeling Lady Day with a girl just wants to have fun attitude. This cross-generational meeting of kindred spirits has given us an album for the ages! —Michael Devlin

Gurf Morlix—Finds the Present Tense
2013, Rootball Records

Oddly, his voice sounds more or less like you would expect from someone with a name like Gurf Morlix. It's kind of a cool laid-back rasp, very real and expressive. Also as expected, if you know of his work as a producer, the arrangements are an exquisite Americana blend of acoustic and electric instruments. The studio band is as stellar, as guests Ray Bonneville and Eliza Gilkyson. A glance at the album cover reveals a man with his head in his hands and a time-bomb on the table in front of him. Coupled with the album title, the visual becomes dryly humorous. You won't find laugh-out-loud jokes in the songs, but there are certainly a fair share of wry turns of phrase. Although the sound is edgy and the lyrics are often from the point of view of people in pain, Morlix manages to elicit respect for the darkest of human moments and the power of the slenderest hope. Gilkyson provides the harmony vocals on the first track, a starkly haunting tale of desperate crime and tormented punishment. The dark mood continues through "Lookin' for You," an obsessive song of desire marked by images of blood in shark infested water in contrast with a jaunty slow-walking beat. Song after song, phrases jump out at you— "I slipped through a series of closing doors," "It's a small window I'm lookin' through," "I didn't strike the match, but I was at the scene/ Pourin' on gasoline." The grooves of sound and twists of expression will keep you listening, even if you are left wondering why you enjoy strolling through these dark places. —Michael Devlin

Note: If you visit Gurf's website you will find a link to a video called Psycho Blues: Quest for Näcken, which is about finding a harmonica player for a song on this album, "These Are My Blues." Check it out and don't miss the music store owner's response to Gurf's question about where the harmonica players are!






Darryl Purpose—Next Time Around
2012

After many years of touring nationally, singer-songwriter Darryl Purpose took a break in 2005 and moved to a home in the mountains of Nederland, Colorado. The 2012 release, Next Time Around marks his return. His early work was frequently autobiographical, giving us for example, glimpses of his life as a professional blackjack player. Hopefully his fans won't be disappointed that this album doesn't reveal the reasons he has been away for so long, but will enjoy this set of songs written in collaboration with other songwriters and drawn from the stories of others. There is a song inspired by the man who carved whimsical animals from wood and founded a charity to establish a carousel in his home town. Another song remembers Rachel Corrie, a 23 year-old activist killed by a bulldozer while she was trying to protect a home in Gaza, who at the age of 10 recorded a video from which Darryl quotes "look into the future, see the light that shines there." In "Race the Wind," Melody Fairchild, mountain runner and CFR instructor, embodies a philosophy in which one strives to "arrive with each step." Fans of Dave Carter will be especially gratified to hear the previously unrecorded "Girl from Golden," a song written with Darryl in mind. "The Fourth Chair," a song about friendship and absence that has long been a favorite in live performance, sounds lovely in the studio version found here. In fact the whole album is beautifully arranged and recorded, with outstanding studio musicians and guest appearances by Tracy Grammer and Ruth Moody. Welcome back Darryl! —Michael Devlin






Jenn Rawling & Basho Parks—Take The Air
Waterbug, 2012

Unexpected combinations are the norm for this duo, starting with their names, Jenn Rawling, and the eclectically named Basho Parks. The artwork on the CD shows a collage of old paper strips forming a geometric structure that is at once modern and old-fashioned. Rawling is the songwriter and lead singer, composing highly melodic songs from fascinating scraps of phrases and images, singing them with an engaging yodel-edged alto. Parks sings harmony at times, never lead, but his "voice" is heard in the form of the his distinctive violin, viola, mandolin ukulele and guitar. His viola and violin have a dusty, mournful quality that reveals classical, mountain and bluegrass influences. It is easy music to listen to, with choruses and hooks to draw you in while the structure of each song slowly reveals a complete and profound expression. The first track "Big Old Lake" introduces their unique production esthetic, the fiddle, guitar, bass and light percussion having a live acoustic feel, while Rawling's vocals are multi-tracked. Similarly, the next song, "Whistle Bird," features some delicately multilayered vocals, violin and whistling without loosing its earthy feel. Just when you think you have their sound pegged, they bring in Joel Ricci's fat lower register trumpet licks on "Hug You Hug." Most of the songs are impressionistic rather than narrative, making the waltzing simplicity of "Wallflowerness" stand out without standing apart. Rawlings and Park certainly have a sound all their own, yet each song has a delightful elemental surprise to engage your interest. Let this album take you where it will! —Michael Devlin






Claudia Schmidt—Bend In the River
2012, Red House Records

This is a compilation of material from Claudia Schmidt's Red House Records releases dating from 1987 to 2000. Not knowing that on first listen, I found the music to be all of a piece, sharing a high level of musicianship, songwriting quality and Schmidt's dynamic and dazzling singing. Her voice sounds like it would need no amplification to be heard at an outdoor festival, yet flexible enough to express everything from a tear to a smile. The songs in this collection range from folk to jazz and blues, always grounded in her uniquely agreeable style. Although the musical styles vary, the production is exquisite. Noted for her 12-string guitar and dulcimer playing, she is joined by brilliant studio musicians and notable guest artists including Beausoleil, The Violent Femmes, Peter Ostroushko, Dean Magraw, Sally Rogers and others. If you have heard Schmidt live or on A Prairie Home Companion or Mountain Stage over the years, you will find it quite a treat to listen to this beautiful compilation. —Michael Devlin


Pete Seeger & Lorre Wyatt—A More Perfect Union
2012, Appleseed Recordings

The fact that this is an odds-against album is a small part of this story but worth mentioning. That Pete Seeger, in his early 90's and Lorre Wyatt, coming back from a career halting stroke in 1996, still have the talent and strength to make music is inspiring. That they still have so much to say that needs to be heard makes this a vital work. The opening track, "God's Counting on Me... God's Counting on You," sets the tone. The theme is about working together so that "We'll all pull through." There are af few specifically political references such as, "It's time we turn things around/ Trickle up not trickle down." The song title is also the refrain, reclaiming territory staked out by Seeger and others in the Sixties when progressive causes were expressed in religious terms. The style of this song is unabashedly singalong, with Pete trading verses with Bruce Springsteen and Lorre Wyatt, and with a children's choir and a stage full of other singers. The duo of Seeger and Lorre gracefully comment on their own seniority and roles with songs such as "Old Apples" ("still can make good sauce") and "Keep the Flame Alive." Once again, these folksingers are way ahead of the politicians as they quote the preamble to the constitution in the title track and express optimism for the only sensible option for survival, "Our differences we can transcend." In addition to Springsteen, notable guests Steve Earle, Emmylou Harris, Tom Morello and Dar Williams lend their voices. Pete Seeger's a cappella rendition of "Strange Lullabye" may move you to tears when you think about what it may feel like to be over 90 years old singing this song to a grand- or great-grandchild. "How I prayed you'd be born in time that was calm/ To the trill of the birds not the roar of the bomb/ Though the world is atremble with sickness and fear/ Close your eyes rest awhile, I'll be near." "Bountiful River" closes the album, bringing to mind not only the Hudson river that Pete did so much to renew, but the lifetime of song he has given us, "O Bountiful River, we will never part." What a gift of warmth, wisdom and wit. —Michael Devlin






Sons of the Never Wrong—Church of the Never Wrong
2012, Waterbug Records
Click cover for Amazon


The album title taken by itself could be taken a certain way by certain folks, and I'm sure the Sons of the Never Wrong take some delight in the ambiguity, but the songs here are presented respectfully in the spirit they were written. As the liner notes indicate, the concept was to have the band's many Chicago-based musical friends contribute their talent and their favorite "holy" songs for them to "Sons-ify." Secular songs with religious references such as "Circle of Gold" and "Hog Heaven" coexist ecumenically with traditional tunes and catchy originals. The Sons of the Never Wrong, Bruce Roper, Sue Demel and Deborah Lader, lend their distinctive styles to the songs of their peers, resulting in an album that touches upon an extraordinary variety of spiritual themes, as it jumps from genre to genre. The first track is Michael Smith's "Five Angels," the opening track of the 1994 autobiographic Michael Margaret Pat & Kate. Revisiting this simple sounding yet mysterious song is quite a treat, with Deb and Sue introducing the chorus in a cappella harmony. Bruce Roper's "Rings On Your Fingers" follows, with piano accompaniment and light percussion. Regardless of the arrangements, there is a great deal of loving attention paid to the acoustics, with the reverb set to make it sound like the album was recorded in a church. Pat Roper gives a stunning performance of his "Holiness Adorns Your House," a song with lyrics that are "churchy" in a way that usually leaves me cold, but the melody and harmony are so inspiring that I find myself drawn to this song. There is so much music to enjoy, whether you like bluesy gospel, country, traditional songs or singer-songwriter originals. With twenty tracks, you find a different one jumping out at you nearly every time you play the album. Last time through, it was Megan McDonough's "Meditation" (which somehow reminds me of "Pancho and Lefty!"). I would like to think that the choirmasters of various congregations will take note of this inspired collection of music and enhance their repertories. —Michael Devlin






Louise Taylor—Tangerine
2012, Signature Sounds

This album is somewhat of a duet, with a Duesenburg hollow-body electric guitar as Louise Taylor's singing partner. The guitar's tangerine finish stands in contrast to the warm, sultry tone and supple touch of Taylor's fingers on the strings. Her warmblooded vocals are filled with nuanced variations of color and rhythm as she coaxes darkly human chords and riffs from her citrus guitar. Although Louise is abetted only by the drumming of Jerry Marotta, you couldn't describe the album as stripped-down. Taylor treats each phrase as an opportunity to explore the melody and the meaning of the words. Her guitar plays with the beat while laying down the mood and melody in rounded tones. Jerry Marotta is masterful, answering producer Peter Gallway's call to provide percussion for the album with a distinctively tasteful, but light touch. Listening is somewhat of a full-bodied experience, with feet tapping and body swaying in slightly different patterns as you enjoy the beautifully crafted lyrics. The narrative threads of the songs are short—impressions and snapshots colored with dusky emotion and resounding serenity. "Love in the Dark" is particularly haunting as Taylor takes her time with each line. "The beauty of her lips trembling against the sky/ cut out of shadow framed in the rarest light/ I want to believe and if I could I would/ whisper all the secrets of my heart/ love looks gorgeous in the dark." A mature and deeply satisfying achievement from a uniquely talented artist. —Michael Devlin

Concert Reviews:
Aengus Finnan
3/16/13
Finch Mountain House Concerts
Babylon, NY


Canadian singer-songwriter Aengus Finnan made his second appearance at Jack and Karen Finkenberg's Finch Mountain House Concert series in Babylon, New York, on the eve of St. Patrick's Day, 2013. If you don't know his music, you may ask, "Why is this interesting?" A quick attempt at finding him on the web at aengusfinnan.com will reveal that his domain name has expired. A bit of research will show that he put out two albums more than ten years ago and that he has not toured in many years. You may surmise that he is not a dedicated or talented musician, but you would be mistaken. Some performers have a loyal following and steady career on the strength of a beautiful voice, songwriting skills or an engaging manner with the audience. Aengus Finnan has all of these qualities. He was born to be a musician, his parents filling his soul with their songs in a home where music was a part of daily life. He sings in an expressive soft tenor. His songs are profoundly melodic, rooted in music that, without accompaniment, can be sung and whistled for generations. His ease and charm in live performances springs from his humble belief that it is a uniquely human and remarkable thing to gather in song and story. Yet for some reason, Aengus Finnan has not found the popular success that his music clearly deserves.
Although Aengus let us know that he now realizes creating and performing music is his life's calling, he didn't hint at what took him off the road in the first place. The house was packed to capacity as he launched into his show with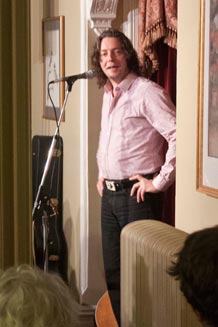 "Sandy Grey," a Slaid Cleaves song he performs as an epic poem. The song was well-known to many in this audience, but it is still stunningly affective to hear it weave its spell on a rapt audience. When he picked-up his guitar, his playing revealed a skill for melodic accompaniment. His lyrics often have the antique turns of phrase of traditional songs, but he has a gift for singing from his heart to ours. His voice is disarmingly soft, yet strong and confident as if singing was his first language. During the show he often joked about how his songs are frequently sad (he has seen his name misspelled as "Anguish Finnan"). Yet it is the songs that deal with moments of tension and intense emotion that have the power to take one to a deeper level of understanding of what it is to be human. And so, we have songs about a troubled young man yearning for his absent father, a girl who dreams of dancing who must become an exotic dancer to earn money to return home, a man who would rather burn his barn than let it go to the highest bidder. In O'Shaughnessy's Lament, a miner stands by his wife's grave. As in the other "sad" songs, we can only sense the depth of the sorrow if we have a sense of the hight of the joy, as Aengus sings the following lines a cappella. "Well we courted long and dear while McCarthy was your name/ And when you untied your hair, all the flowers were put to shame/ So the fellas spruced me up for the first time in my life/ How I felt like I was someone when you became my wife." Even when his songs are not about the darkest and brightest moments of life, they shine with warmth and feeling. "Rollin Home" is rich in detailed emotion from both sides of a trucker's homeward drive and his wife's journey through the day of his return.

You may describe seeing Aengus Finnan live as a magical experience, but unlike a magician, he generously describes the inspiration for many of songs. If you have a chance, go and see him and let him introduce you, well and true, to stories and tunes that will stay with you long after the show. —Michael Devlin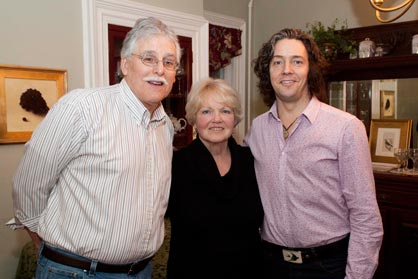 Jack and Karen Finkenberg with Aengus Finnan at Finch Mountain House Concert, March 16, 2013.

Mindy Smith
4/11/13
Blue Rock Artist Ranch and Studio
Wimberley, TX
Mindy Smith performed at the Blue Rock Artist Ranch in Wimberley, Texas. This beautiful studio and venue, between San Antonio and Austin (closer to Austin physically and spiritually), hosts extraordinary live shows ten times a year. (Please click here for the MMReview feature on Blue Rock.) These shows are streamed live from the Texas Room of the ranch, an intimate, high ceilinged room with outstanding acoustics. As one might expect from a recording studio, the audio of the webcast is pristine. Between the camera work and the sound, if you turn down your lights and turn up the volume you feel like you have the best seat in house.
Although Mindy Smith is an accomplished performing artist, she seemed nervous to the point of distraction and at first, the audience didn't seem to know what to make of her, that is, until she started singing. The transformation was stunning as she began to sing. Her voice is unusual, girlish yet dusky, with a grown-up style and powerful delivery. Where she is apologetic and jittery about the little tuning delays between songs, she is completely at home baring her soul as she sings. In an interview, she said that when she started playing out, she was so insecure about her guitar playing that she would sit with her guitar but sing a cappella. Although she still worries about it, she is more than an adequate player, supporting herself with strong rhythms and attention to detail. I had not heard much of her work before the show, and was immediately impressed with the quality of her songwriting, drawn in by her strong melodies and finely crafted lyrics. "Sober" is written with a directness that makes it immediately accessible, and enough gem-like phrases to make it satisfying. As a Long Island native who moved to Nashville, "Tennessee" acknowledges what makes her call it home, "Your daytime seems like Cash and Patsy Cline/ They may not be what everybody needs/ But they touch my soul/ That's good enough for me." The show progressed from one well-sung great song to the next and the audience seemed to relax into Smith's self-deprecating humor as they patiently waited for her to inhabit another one of her fine songs. When one is relatively new to an artist, hearing a familiar cover can really grab one's attention. "Jolene" has been a big song for Smith, collaborating with Dolly Parton herself on a version of it for a tribute album. Her guitar rhythms and phrasing make the song her own, but it is her ability to sing every word from her very core that will blow you away. The substance and emotional depth of her music makes one want to seek out her recordings to hear these songs again. If I was actually in the Texas Room, I would have bought an album or two! —Michael Devlin