Music Matters Albums
Listen to samples of
music that matters.

Through iTunes
Through Amazon


Issue 15
Issue 16
Issue 17
Issue 18
Issue 19
Issue 20
Issue 21
Issue 22
Issue 23
Issue 24
Issue 25
Issue 26
Issue 27
Issue 28
Issue 29
Issue 30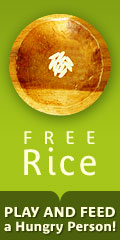 Photos by Michael Devlin


Kate McDonnell Link

Kate McDonnell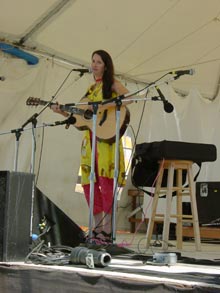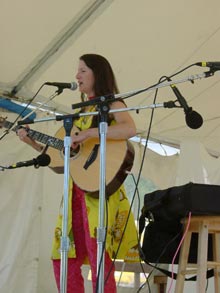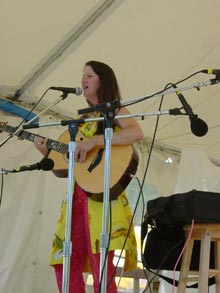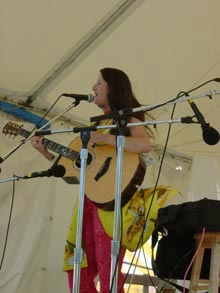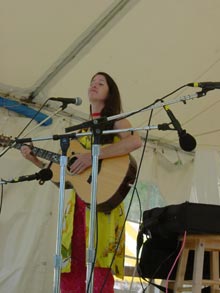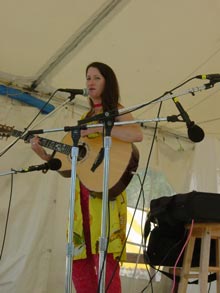 Kate McDonnell
Interviewed by Michael Devlin
January, 2002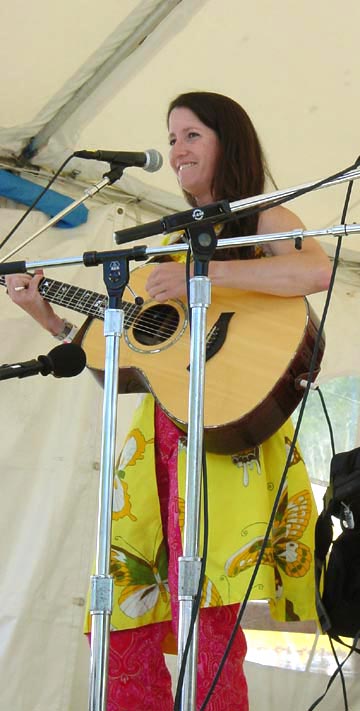 Kate McDonnell has been one of the very finest performing singer-songwriters for quite a while. Her songs can sound like classics the first time you hear them, or envelop you in a magic that is all their own. Her rich, song-filling voice breathes life into her lyrics, whether they are defiant, reflective, sexy or sad. Her guitar work drives the songs with a funky emphasis on the lower strings. She's long-since stopped being a work in progress—she's paid her dues, honed her craft and put miles on the car. I was lucky enough to spend some time on the phone with her in early 2002.

From the beginning, Kate had the ear of talented musicians and songwriters. She credits Bob Franke on one if the songs on her first album.

Kate: Bob Franke I met through a songwriter's workshop where he was one of the instructors on staff and I was in his class. He gave the assignment to write a song that you could never imagine yourself writing. That was such a spark. I had never written a historical song. I had written some topical songs about current events like Tiannamen Square, but I never imagined writing something from the Civil War. "Letter from Rose Greenhow" shows the story of a woman's experience, which is not typical for a Civil War song.

Scott Petito, the wonderful bass player and producer, worked on her first album, Broken Bones and her current release, Don't Get Me Started.

Kate: I think that he was very early in his career as a producer. I gave him a CD from when I was performing as part of a duo with Freddie Tane, and asked him if he would like to produce a solo project. When we got together we realized that we were definitely on the same wavelength and he made beautiful things out of my songs.

Her vocal style is influenced by Joan Baez.

Kate: She was my first and number one influence. She was the whole reason I started this. I would thumb through my mother's record collection when I was 4 or 5 years old, and when I found the Joan Baez records I thought, "Oh, she's pretty!" Then I put her on and I loved her voice, and from then on I was transfixed. That's when I knew what I wanted to do with the rest of my life. I became devoted to music and listening. I wasn't a reader walking around with a book—I was walking around with a stack of records looking for the record player that worked in the house.

I really tried to mimic her singing style until I was about twenty, then I spent the rest of my singing life trying not to sound like her and to have my own style. She became a way of life, an obsession for me.

Is Joan aware of her feelings?

Kate: I'm sure there are millions like me who had her as their mentor. When I was thirteen I would try to go to as many of her concerts as I could. I would write her letters and her mother would write back. I still have those letters. I once gave her a vinyl record that my sister and I made in college. I'm sure that it got tossed on a pile to be shipped out to Goodwill. It really doesn't matter to me anymore—the fixation is over, but she still is a huge luminous figure in my love of music.

Richard Shindell and Dave Carter and Tracy Grammer are currently on tour with Joan Baez and have had her perform their songs.

Kate: I'm extremely jealous! Richard and I were friends in high school. We used to play coffee houses together. He never sang at the time. He was a fabulous guitar player. He and his friend Tom and my sister and I would sit in his attic and play music all day long. I was surprised to find out that he later started to write all of these amazing songs. He knew me when I was in my obsessive period with Joan Baez, so it is ironic that his songs have gotten to her and that he is on tour with her. I'm happy for him…but I'm also very jealous!

Unbeknownst to Kate, she shares an interest with Joan Baez in working with the blind. Baez worked at the Perkins School for the Blind for a short but enjoyable while.

Kate: Even more reason that she should pay attention to me, right? [Laughs] I started volunteering once a week, reading short stories to the blind. It's hard to do now that I am on the road so much, but I would like to do that again. I started by reading the paper and entertainment listings and so forth, but I noticed that some of the people were snoozing. I said, "You guys don't want to hear this do you?" They said, "No, this is what they think we want to hear." The next time I came in with some Southern short stories—funny ones—Eudora Wealty, Fannie Flagg and others like that. It was a laugh-fest every week. It was a residential home for the blind. I loved it.

What makes Kate McDonnell put up with all of the sacrifices involved in being a touring, independent singer-songwriter?

Kate: I can quote the clichés and say, "I can't not do it, I'm put on the earth to do this." It is just a natural thing for me to do and it has always called me back. I have done other jobs in an attempt to keep a marriage (that ultimately fell apart) together. But this life would not leave me alone. If it's your obsession from childhood, it will never leave you alone. I fought it and took a halfway approach to it for many years—I was lazy about it and I tried to make everybody else happy and that created a great deal of disharmony in my life.

The songs on Don't Get Me Started are alive with personal feeling and references, yet they speak to all who listen.

Kate: Sometimes my songs are quite confessional, but what I am experiencing is really no different than what anybody else is experiencing. People shouldn't feel wacko because they are going through some dark periods in their lives. It has always helped me to know that people have been going through some of the same things that I have been going through. It makes me feel like we are all part of the same club.

A particularly powerful song is "You're Wrong." It's tender, it's hurt, it's mad and forgiving and always moving.

Kate: It's so direct. I can see the hair stand up on some people's arms when I sing it to them. Sometimes I feel uncomfortable singing it to an audience because it speaks about very raw emotions and for some people that is a very uncomfortable thing. On the other hand, there may be someone in that same audience whom I can see saying, "Yes! Yes! Yes! I've been there."

Many of the songs seem to be rooted in form and style to the songs that have become standards in contemporary folk music.

Kate: It's subliminal. Those folk forms are in my bones.

Like so many of the incredibly talented musicians who have yet to become nationally known, Kate can was nervous about performing at the historic Newport Folk Festival last summer.

Kate: I was nervous but it went great. I haven't come down yet! I was in the round with Rory Block, Mary Lou Lord and Sara Hickman. Sara Hickman and I discovered each other before we were on stage and admitted to each other that we were really nervous. We were instant friends and that made it really fun. It was an electric feeling under that tent.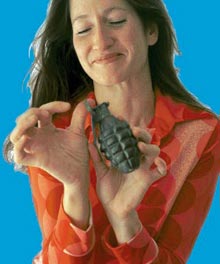 The album art for her latest album, Don't Get Me Started, shows Kate delicately preparing to pull the pin on a hand grenade.

Kate: The original concept was for me to be in the foot blocks for a track meet, but that just didn't work out so well. When we went to buy more film, we walked by an Army/Navy store and I suddenly thought, "Hand grenade!" So we went in a bought a hand grenade!

Don't Get Me Started certainly has a breakup theme, but there is a progression to a coming home theme. Her family is featured on two songs, "Banks of the Ohio" and "Pal of Mine."

Kate: My family rescued me during my breakup. I'd been away since 1985. Some people cope with things better than others, but I really needed to be near my family. What we did on "Banks of the Ohio" and "Pal of Mine" is something we do every year at the Thanksgiving table after a lot of wine and champagne and food. My boyfriend said that it would be a great thing to capture and have on an album. We've talked about doing that in the past, but this time seemed like the right time to do it. So we all poured into a studio and recorded it.

The McDonnell family is not only a place called home, it is the source of the music for Kate.

Kate: My mother has funny stories about me and my two sisters and brother. We would roll ourselves to sleep with the radio on. We'd roll on our backs, back and forth to the tempo of the music with our thumbs in our mouths. My mother thought it was very odd that this was the only way we could fall asleep. She went to a psychologist friend of hers and asked if there was something wrong with her children. She worried that it was some kind of autism.

My parents would buy me guitars and stacks and stacks of albums every Christmas. All of us were just rabid about music.

Even growing up in a musical family, Kate somehow still learned to play the guitar upside down and backwards. This gives her a unique sound with an emphasis on the bass strings.

Kate: I started playing guitar very early and I had my own little theory about playing. It made sense to me that the low string went on the bottom and the high string went on the top. When I looked at a picture of someone playing guitar, the neck would go out to the right, so I mirrored that. After all, I was only four or five years old. My parents probably didn't think anything of it because they were too busy chasing all of us around the house, and getting us fed and clothed. It was probably the least of their worries that I was playing the guitar that way. By the time I really got serious, when I was eight, I was pretty set in my ways. They said maybe it's time to switch that around, but I said maybe it's not! I was doing a little Travis-picking and basic strumming and listening to the Vanguard artists. I would always bring my guitar to school for show-and-tell. I didn't start looking for guitar heroes until I was about thirteen, when I discovered Leo Kottke, Steve Howe and the guitarists with Gentle Giant. I discovered Jimi Hendrix when I was in high school but I had no connection to the electric guitar. It may as well have been a trombone as far as I was concerned.

I accentuate the bass notes because I like the dynamics of a high voice and the lowest possible notes on a guitar. I am also influenced by Leo Kottke, who is a big player of bass notes. I tune down a whole step, so my bass notes are lower than usual.

Kate's mother, Constance, wrote "The Last Time Robbie Called Me." In the liner notes to the song on Broken Bones Kate writes, "I held on to these lyrics for a long time—pulled them out, and read them every so often, wept, put them back in my guitar case.

Kate: That was a one-time thing for her. She's a writer. She's been putting the finishing touches on a novel. She's written a few other funny songs but they wouldn't work with my material. But that one just nailed me in the middle of the forehead.

Kate McDonnell continues to tour, bringing her music to new and old fans alike.

Kate: From previous albums people request "The Last Time Robbie Called Me" "Enola Gay" and "Baltimore." From the recent album, "Sticky Buns" and "Gone." They also request "Will You Be Leaving," the Alison Krauss song.

---