Music Matters Albums
Listen to samples of
music that matters.

Through iTunes
Through Amazon


Issue 15
Issue 16
Issue 17
Issue 18
Issue 19
Issue 20
Issue 21
Issue 22
Issue 23
Issue 24
Issue 25
Issue 26
Issue 27
Issue 28
Issue 29
Issue 30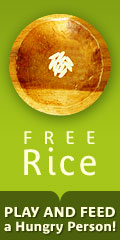 Mary Ann Rossoni Links:
Mary Ann Rossoni
Downcity
2000, Wall Street Music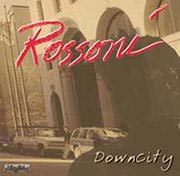 Mary Ann Rossoni has a gift for writing lucid songs that connect. It is not just one aspect of songwriting in which she excels, but the full range of expression, imagery and songcrafting. She understands how to write a hook that stays with you and draws the listener into the verses of the song. Her voice is distinct, strong and expressive. Her vocals are without cliché even when she is rocking or singing the blues. Her first solo album, Half Slips & Garters, was a wonderful introduction to her slightly smoky voice and outstanding songs. Downcity seems to be an attempt to reinvent herself, dropping the "Mary Ann" completely from the outside of the CD, giving the illusion that Rossoni is the name of a band.

The production of this album at first turned me off. Rossoni is such a major talent as a songwriter and performer that it is baffling why anyone would want to sink it behind heavy handed drumming and very ordinary pop electric guitar and keyboards. Rossoni rocks for real when she chooses to, but what's the point in pop-rocking? I put this album aside for a while, and when I picked it up again two things were apparent. One is that Rossoni's talent still comes shining through—even on the noisier tracks, the songwriting and singing is wonderful. The other is that I hadn't actually listened to the whole album and when I did, I was rewarded with some welcome production reduction.

The first song, "Conversations," is a travelogue that shows Rossoni's maturity as a songwriter, balancing startling emotional details with the progress of her trip. "Dead Limb" is raw and personal, but it doesn't read like yet another singer-songwriter "song about me" because Rossoni elevates it to an archetypal level with poignant images and compact phrasing. "When will you stop thinking I'm the/ Dead limb on the family tree?"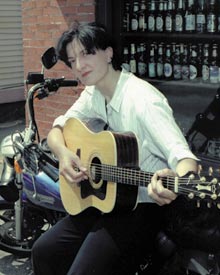 Rossoni seems come to terms with her production team on the neat little rocker "Drama Queen" as Rossoni and her band are on the same page and having fun. The eighth song on album is an absolute gem. It takes a few listens to figure out exactly what is going on in "Mother of the Heart" but only one to feel its power. It is a love song about a woman who is close to the children of a friend or relative. "I did not bear you as my own/ Think of me as your soul mother of the heart."

There are several other outstanding cuts to enjoy as this fourteen-track album winds down. "Move On" is a quiet, moving ode to a young love that fell apart due to the pressures of being different. "Kept our love underground/ 'Til we grew cold and numb/ Knowing just above the surface/ Others walked out in the sun." "Next Bus" is about an attempted escape from domestic violence, a chilling account from a third person perspective. "Safe Zone," a memorable cut from Half Slips and Garters, is reinvented here with bag pipes and a marching band cadence in the drums. This song about hookers and street people is remarkable in this setting, every bit as good as the original far different version. The album ends strongly with "She Trusts No One," an edgy portrait of an edgy person delivered in a bitten-off bluesy vocal.

For those who have never heard Mary Ann Rossoni's music, Half Slips & Garters is probably the best introduction. For those who are already fans, Downcity is an album you will definitely want to take home and play all the way through.—Michael Devlin




---