Jody Stecher Links:
Jody Stecher—Acoustic Disc: This site contains sound samples and a free mpeg from Going Up On the Mountain
Jody Stecher
Going Up On the Mountain The Classic First Recordings, Oh The Wind And Rain
2000, Acoustic Disc,
1999, Appleseed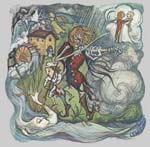 If you were forced to choose between either of these two Jody Stecher releases, my advise would be to go with the Going Up On the Mountain, since it better showcases what Stecher does best. It's an album where the tracks transition easily between the gospel spirit of "Don't You Hear Jerusalem Moan," to the empathetic comfort of "Amanda." There's also a loose spirit about it, as chatter between the assembled musicians can often be heard rumbling between tracks, leaving the impression that a spontaneous jam was somehow secretly captured on tape. The picking is tasteful, yet always amazingly precise, and the singing is especially distinctive. Larry Hanks—whose bellowing bass vocals anchor many a song—helps out Stecher on more than a few of these cuts. Oh The Wind And Rain is not a bad album, mind you. But its ability to please is hampered by its across the board unity. Usually, a unified musical purpose can only help the overall impact of a recording, but not so in this case. It's just too darn ballad-heavy. The title track ["Oh The Wind And Rain" song sample on Appleseed web page], with its plodding unending stream of verses, represents a little too much of a mellow thing. The album lives up to its subtitle of 11 ballads, but listening through so many ballads in one sitting can be a little hard on even the most patient listener—your tapping-foot might just fall asleep! This makes the disc of classic early recordings a much better sampling of Stecher's work. Use Going Up On the Mountain as a well-rounded survey of how a folk release should be assembled, and save Oh The Wind And Rain for those late night quiet listening moments, when dozing off isn't considered a rude response.

---