Interviews:



---


Henry Butler
Dave Carter and Tracy Grammer—Drum Hat Buddha 7/4/01
Dave Carter and Tracy Grammer
Catie Curtis--Plus frame grabs from her "Radical" video!
Iris Dement
Stacey Earle

Cliff Eberhardt
Steve Forbert
Vance Gilbert
Lucy Kaplansky 1/8/04
Linda Gail Lewis 6/24/01
James "Jimbo" Mathus 6/24/02
Kate McDonnell 5/04/02
Linford Detweiler Over the Rhine 9/01
Pierce Pettis 7/21/01
Darryl Purpose 3/2/02
Mike Scott—The Waterboys 9/01
Richard Shindell update
Michael Smith 6/15/00
---
Search Music Matters
---
Issue Info:
Complete listings of the reviews interviews and features in our print publication. Click on the issue numbers below for details!

Issue 14 Our final print issue!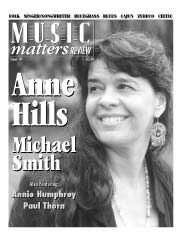 Reviews:
Reviews of the latest releases from your favorite and many "underdiscovered" artists!
Interviews:
Anne Hills
Michael Smith
Annie Humphrey
Paul Thorn

On sale now!